AutumnCare News
AutumnCare joins the OneTouch family
We are excited to announce that AutumnCare has joined the OneTouch Health Group!
---
We are excited to announce that AutumnCare has joined the OneTouch Health Group.
As government intervention and regulation of the sector continues to increase, aged care has become increasingly complex.
AutumnCare has sought an investment partner to ensure that we can continue to meet the evolving needs of our customers. Joining OneTouch Health will help us to achieve this.
OneTouch is a leading digital care management platform catering to the home care market across the UK and Ireland.
The product incorporates a full suite of functionality including rostering, care plans, time & attendance, billing, HR management, incident records, and family engagement.
Together, we form a group of complementary healthcare technology companies.
This development marks the beginning of an exciting new chapter for AutumnCare that will bring about significant benefits for customers.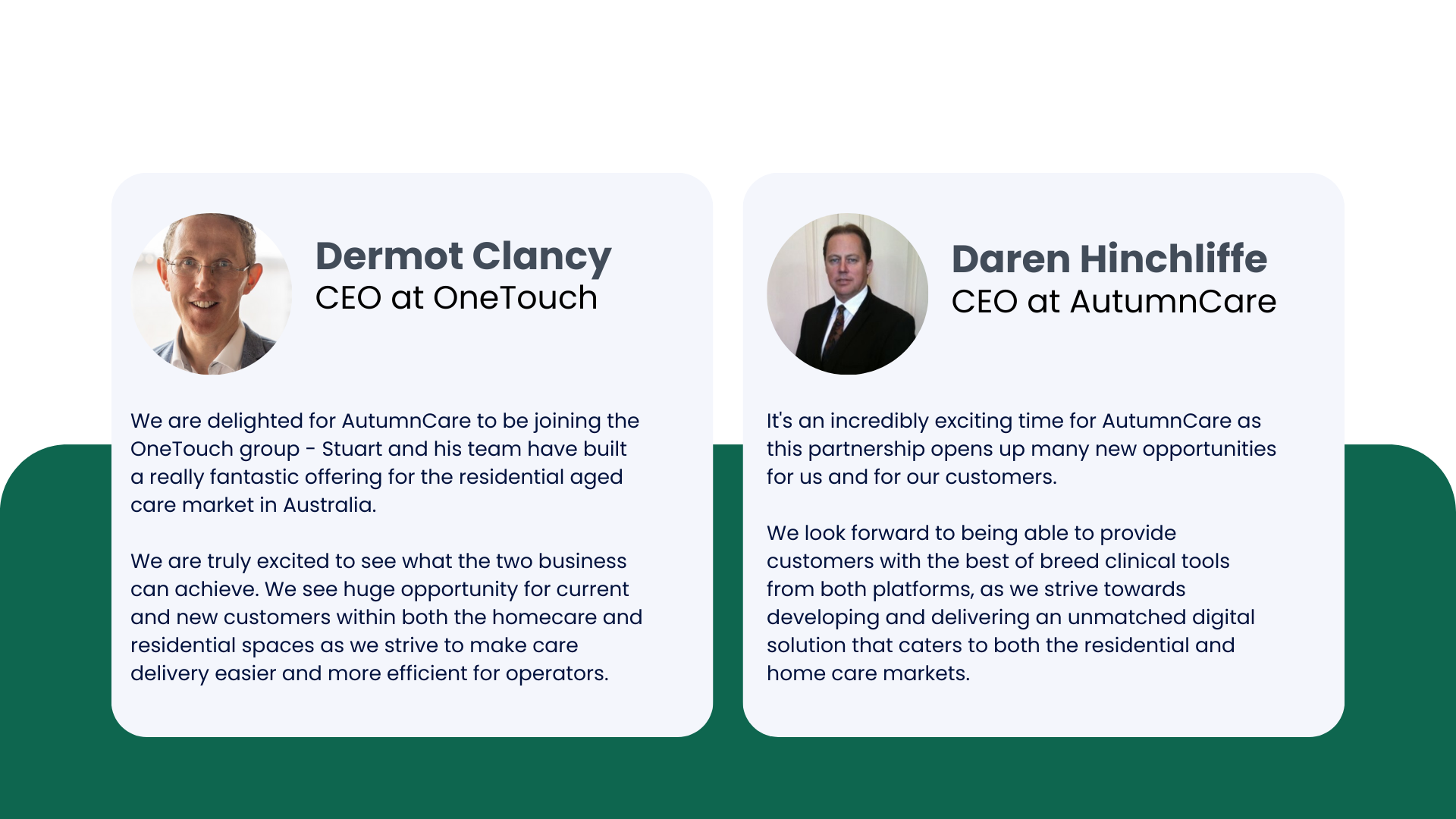 Through this partnership, there is incredible opportunity for advancements to be made in AutumnCare's product set as we look to incorporate best practice clinical tools and resources across both platforms.
Leveraging the extensive functionality of OneTouch, we will now be able to offer home care providers with a comprehensive solution that pairs rich clinical governance with the tools required to manage rostering, scheduling and billing of services.
We are aiming to:
Increase team resourcing and infrastructure

Expedite product development and roadmap delivery

Tap into a larger resource pool

Diversify our product offering

Renew our focus on customer service

Continue our focus on clinical governance
We look forward to bringing you more news and updates as we strive towards a shared vision of delivering a true end-to-end solution for the combined home care and residential market.
You can find out more about OneTouch Health in this short video.