KEEPING FAMILIES CONNECTED
Streamline family engagement through a communication portal
Communicate directly with resident's loved ones via AutumnCare Family.
This mobile app is fully integrated with the AutumnCare clinical management system to ensure that items can easily be selected for sharing where appropriate.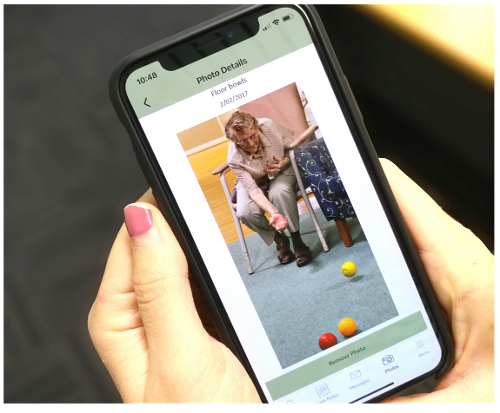 Connectivity
AutumnCare Family encourages family involvement no matter where they are, no matter the time of day, and on their terms.
This makes Family the ideal way to keep up to date between in-person visits.
Collaboration
Family members can collaborate in care planning even when unable to attend care plan reviews in person.
Family allows care plan reviews and updates to be signed electronically.
Consumer focus
Demonstrate a commitment to consumer focused care and services with an additional touchpoint for families.
This supports the Quality Standards and Person Centred Care Principles.
Share photos of outings, events and activities
Share relevant care related notes with family members
Send messages as well as time sensitive alerts
Share care plan items with family members
Send care plan reviews and updates for signing
Share changes made to any prescribed medications
To ensure shared items are appropriate before sending
Full integration with other AutumnCare modules
What is AutumnCare Family?
AutumnCare Family is an app designed for use on iOS and Android smartphone and tablet devices.
Fully integrated with our clinical management system, staff can nominate relevant items to be shared with family members e.g. photos, notes and care plan items. These are then approved by an administrator before being distributed.
What information is shared on Family?
Information shared can include messages, alerts, photos, notes, medication profiles, entire care plans or individual care plan items.
Can I control the information that is shared?
Yes. Prior to being sent to families, all items nominated for sharing will be taken to an approvals area.
Here, an administrator will be able to confirm or reject items for sending to family members.
Do I control who has access to Family?
Yes. Prior to gaining access to any sensitive information, family members must receive a code generated by the organisation.
This allows you to remain in control of who has access at all times.
Find out what AutumnCare can do for you