MOBILE CARE RECORDS
Access and create records directly from the point of care
AutumnCare Mobile allows staff to enter data on the go, encouraging frequent, accurate progress notes.
The app utilises an icon-based interface for an intuitive, user-friendly experience. Being more streamlined than its Desktop counterpart allows users to pick up and go.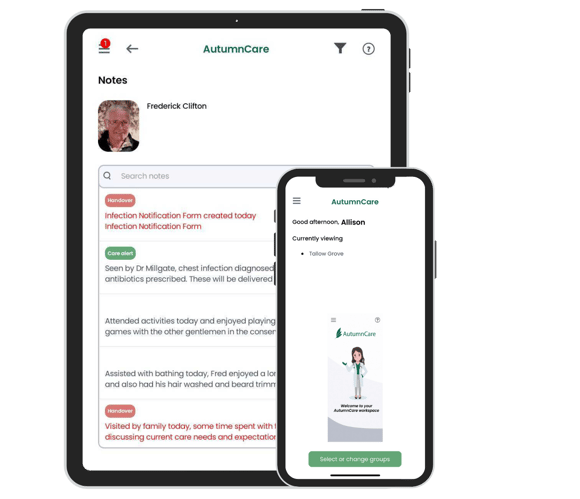 Easy to use
AutumnCare Mobile uses icons to create a user friendly and intuitive experience.
Simply select the feature and the resident you wish to work with and get started!
Accessible anywhere
Accessible from any iOS or Android device, staff can complete records on the go.
Managers can also access information outside of the facility if required.
Safe & secure
Devices must be registered and access can be revoked instantly by administrators.
This keeps the organisation in control of who has access to information at all times.
Assign tasks and send messages to staff on the go
Complete entire assessments in direct resident consultation
Add new entries to charts for bowel, BGL, weight, fluids +
Capture photos to be added to assessments from your device
Take accurate notes as care is delivered to the resident
Update care plans on the go via clinical assessments
Group residents to view those you will work with that shift
Continue to access information during internet outages
What is AutumnCare Mobile?
AutumnCare Mobile is a app designed for carers to access and enter data at the point of care.
This encourages more face-to-face time with residents as care can be documented as it occurs. It also facilitates more frequent, comprehensive note taking.
Can Mobile be used on any device?
Yes. AutumnCare Mobile can be used on any iOS or Android smartphone or tablet.
How is Mobile kept secure?
Data shared through AutumnCare Mobile is kept secure via encryption, password protection and access permissions.
AutumnCare encrypts all data stored locally and transferred between machines and the server using AES 256 encryption.
Can Mobile do everything Desktop does?
Almost!
Mobile has been designed as a streamlined and efficient way to enter notes, complete assessments and take photographs for adding to things like wound assessments.
To run reports or view Dashboards you will need to return to the main Desktop.
Find out what AutumnCare can do for you